Mini Drone, Spinner 360° Rotating Levitation UFO Flying Ball Toys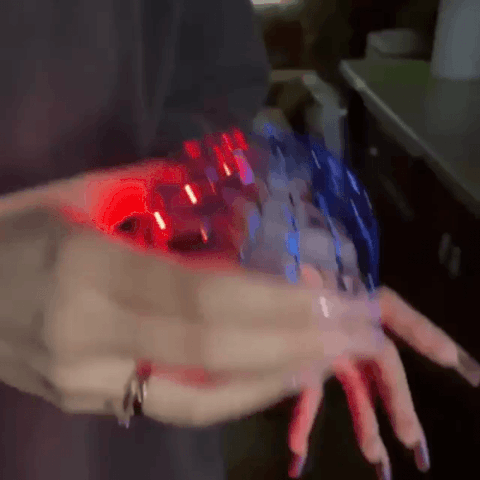 【 Safer& Anti-Drop &Durable】The shell of the cool toys ball is non-toxic and high grade ABS material, lightweight and flexible bendy to withstand countless crashes. So doesn't hurt people or furniture. Apparently when the flying ball toy lands on the floor or a piece of furniture, it automatically "knows" to stop flying around, so it's never totally out of control.These cool toys have passed the child safety test, children can play worry-free.
【Variety of Gameplays】Nebula orb toy can be used to float and play with like others in its class but this one can do a few extra things like a boomerang you can throw it at an angle and it actually comes back to you. You can also throw it directly at a target, which also makes fun for throwing it back and forth with a friend or you can hover it and have it fly around the room.
【Operation Easy】There is a learning curve. Once you know how to play, it can do many tricks.You can push the flyorb at will with skill to keep it floating in the air. When thrown from different angles, there will be different moving tracks. Start the interactive play just by throwing the soaring orb in the air, grab & flip it to stop. Whether you have a magic wand or not, you could do magic like a magician.
【Effectively Relieve Stress】It can be used as a stress reliever when you're alone, or as a team skill game when you're playing with friends. It's a fun way to exercise and improve eye and brain coordination. Fun knows no age.Parent-child games, games that the elderly, children, adolescents and adults with autism can play.
【Ideal Gift For Anyone】A fabulous gift idea for Christmas gifts, birthday gifts, reward gifts, stress relieving toy gifts for special needs. This cool manual flying balls is a perfect Christmas gift ideas for children and creative birthday gifts for your family and friends.
10min USB Rechargeable Batterers: The mini drone can enjoy for 10 minutes free indoor and outdoor, rechargeable inner battery suit for portable charger, computer, cellphone adapter and car charger, etc., You can take it for great weekend or holiday, the kids can be exercise with friends or family accompanied by happy laughter
How To Play Flying Ball
1.This side up, shake to start
Turn on the power button and hold the fly ball upwards, then simply shake to start and throw it to fly!

2.Fly back like a boomerang
When you toss the flying toy upwards 30°to get flying. It will spins around its axis perpendicular to the direction of flight and returns to you.

3.Travels straight line
Throw it downwards 30°to get flying. It will fly travels steady in a straight line.

4.Shake to stop
If you want to stop playing, just shake the flying ball and stop spinning.